Introduction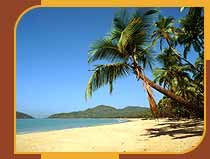 For those who want to be at the paradise and relish a hitch without spending big bucks, for them Goa is the ultimate lace to be in. Goa is sobriquet as the beach capital. Being a Portuguese colony until 1962, Goan culture and heritage reflect her colonial past. This unending heritage will send your soul into a trance. Sleepy villages, long enchanting coastal line, rice fields and picturesquely settled churches, forts, cascades and huts- Goa will give you sheer delight of soul.
Goan culture, architecture, cuisine and lifestyle are considered as the most westernized in modern India. Music, dance, poetry, visual arts, folklores are the main heart beats of its throbbing life. Christian legacy and the mediaeval architectural style of churches have added stunning glitter to the Goan charm. Be it Fenny, be it Carnival, Be it watersports, Or rave parties, Goa will cast a spell on you.
General Info
¤ Capital City -
Panaji
¤ Time Zone -
+ 5.30 GMT
¤ Area -
3,702 sq. km.
¤ Highest Peak -
Sonsogad (3,827 ft)
¤ Local tongue -
Konkani, Marathi, Hindi and English
Climate/Best Time to Visit
Tropical climate of Goa is known for balmy weather round the year. It rains here heavily just after summer months of March to June. Summers are very humid and humidity minimizes during March to May. Mercury rises at 35 º C in summer and remains at a soothing level of 20 º C during winter.
Places to Visit
» Panaji (Panjim)
Capital city of Goa, Panaji is known for sonorous bells of the church of the Lady of Immaculate Conception and loud cheers of party mongers both. Idalcao Palace, Brazilian Institute, Chapel of St. Sebastian, Caravela and Panjim Jetty are some of the major attractions of this exotic city.
» Vasco-da-Gama
Located by the Zuari river and the Arabian Sea, this flourishing town houses Dabolim Airport, Mormubao Port and Goa's naval base. Pilot Point, Japanese Garden, Naval Aviation Museum and Saptah Festival at Damodar Temple are some other attractions of the town.
» Margao
The capital of Salcete province and commercial hub of South Goa, Margao, is a stop over for the tourists going to Goan beaches. Church of the Holy Spirit at Margao represents Baroque architecture and Monte Hill offers a good view of whole area.
Getting There
Goa is well-connected with all the major cities of India with regular flights. Nearest airport is at Dabolim, near port town of Vasco-da-Gama. It is 30 km from Panaji and owned by Indian Navy. It takes now 8 hours to reach Goa from Mumbai by Konkan Railway. Goa is linked with all the major towns of the country via NH 4 A, NH 17 and NH 17 A. Buses operate from Goa to most of the cities and luxurious car rentals or taxis are also available for the tourists.