Introduction
The magic of Rajasthan is visible in its palaces, forts, myths and legends. Rajasthan is waiting for you with the glorious tales of glorious kings and queens, sun kissed desert, mystic forts, glorious palaces wide range of flora and fauna and warm hospitality of its people. Its never-ending historical wealth and brilliant architecture take to a new high of Indian tourism.
Your Rajasthan travel will replete your memories with its unusual rich culture, customs, costumes, cuisines, dialects, folk music, safaris and sand dunes. The thrill of this land of Kings is truly unavoidable. This land is duly known as a land of valiance. The royal land of Rajasthan invites you for a mesmerizing journey.
General Info
¤ Capital -
Jaipur
¤ Area -
343,000 sq km.
¤ Population -
56.5 million
¤ Cities -
20
¤ Roads -
158240 kms
¤ Major Cities -
Jaipur, Udaipur, Jodhpur, Ajmer, Bikaner, Bharatpur, Alwar, Kota
¤ Languages -
Hindi, Local Languages, English
¤ Highest Peak -
Guru Peak(Mount Abu)1,722 m
Climate/ Best Time
As the state has a versatile landscape, climate here also varies accordingly. It is dry and infertile in the west and some of the area includes Thar desert. South western Rajasthan is wetter, hilly and fertile. Winter temperature ranges from 8 ºC to 28 ºC in the state and summer temperature fluctuates between 25 ºC to 48 ºC. Average rainfall here also as 100 mm in western deserts and 650 mm in southeastern part of the state. It rains here mostly in the months of July to September. The best time to visit the state is between December and March.
Places to Visit
» Jaipur
One part of India's Golden Triangle of tourism, Jaipur was built by warrior-astronomer Raja Sawai Jai Singh II in 1727. Hawa Mahal, Amber Fort, City Palace, Jantar Mantar and Jaigarh Fort are some of the main attractions of the city.
» Jodhpur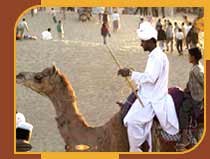 Once the capital of Marwar state, this imperial city was founded in 1459. Mehrangarh Fort, Jaswant Thada, Girdikot & Sardar Market and Museum are the prime attractions of Jodhpur.
» Bikaner
Founded by Rao Bikaji, this historic city of Rajasthan has Lal Garh Palace, Junagarh, Suraj Pol and Ganga Golden Jubilee Museum as the main attraction for the tourists.
» Udaipur
Erstwhile capital of Sisaudia dynasty, Udaipur is a very popular tourist destination of the state. Some of the sites worth visiting here include City Palace, Saheliyon-Ki-Bari, Suraj Gokhada, Pratap Memorial, Gulab Bagh.
» Jaisalmer
Myth says that Lord Krishna, head of the Yadava clan, professed that a Yadava descendant will build his kingdom here. The same happened when Rawal Jaisal, a Yadava, built a new capital here. Jaisalmer Fort, Patwaon-Ki-Haweli and Gadsisar Lake are some places of interest.
» Jodhpur
The one-time princely state of the Rajputs, the city of Jodhpur has the distinction of being the second largest in the state of Rajasthan. The city is also known as the 'Blue City' and has attractions to offer like Mehrangarh Fort, Osiyan Temple, Umaid Bhawan Palace and the Jaswant Thada.
» Bharatpur
A 55-km road drive from Agra, Bharatpur is one of the most travelled destinations in the state of Rajasthan. Tourists arrive here to explore the huge variety of exotic birds sheltered by the Bharatpur Bird Sanctuary, also known as Keoladeo Ghana National Park. Other worth visiting sites include Lohagarh Fort, Bharatpur Palace and Bharatpur Government Museum.
Getting There
By Air –
Jaipur is the main airport to enter this multi-coloured Rajasthan. This airport is easily accessible from other major airports of the state. Other major airports of Rajasthan are at Udaipur and Jodhpur.
By Rail –
Almost all the major cities of the state are well linked with important railheads of rest of the country. Palace On Wheels, one of the most luxurious trains of the world, is undoubtedly the most popular trains of the state.
By Road –
You can explore this state by road from any important destination of the country. Newly developed highways make your journey quite easy.