Places Covered : Mumbai - Bangalore - Mysore - Nagarhole - Ooty - Coonoor - Cochin - Kerala Backwaters - Periyar - Kodaikanal - Madurai - Chennai
Duration : 12 Nights / 13 Days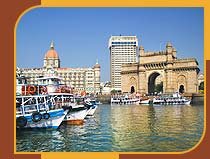 A classic journey through the warm scented hinterland of South India. The excitement of Mysore and Nagarhole gives way to the fading glory of 'snooty' Ooty. The South is a cross roads for the varied cultures that have left their many churches, palaces, forts and temples to enrich this cosmopolitan community. From Cochin it is possible to extend to the nearby beach resorts of Kovalam or Varkala or further afield to the Andman Island, Lakshadweep Islands, Goa or Sri Lanka.
Day 01 : Arrive Mumbai
Representative from our office will meet you on arrival at airport & will transfer to the Hotel for overnight stay
Day 02 : Mumbai - Bagalore
Morning city sightseeing visiting, Gate Way of India, Princes of Wales Museum, Hanging Garden, Tower of Silence, Dhobi Garh & Mani Bhawan. In evening transfer to airport to board a flight for Bangalore & on arrival check-in at hotel for overnight stay.
Day 03 : Bangalore - Mysore
Full day city tour of Bangalore visiting the Bull Temple, and Tipu's Summer Palace, drive past numerous parks, the Vidhan Soudha and down town commercial centre. Later drive to Mysore, which is 140 kms / 3 hrs & on arrival check-in at hotel for overnight stay.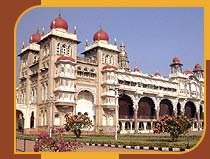 Day 04 : Mysore
Palaces of interest include the Maharaja's Palace, the colourful vegetable and flower markets and Chamundi Hill noted for its Nandi temple. Outside of Mysore visit Srirangapatanam to see the ruins of Tipu Sultan's capital and Somnathpur where the small Kesava temple is considered to be one of the finest examples of Hoysala architecture. For bird watchers the Ranganathittoo Bird Sanctuary (best season December to February) is well worth a visit.
Day 05 : Mysore - Nagarhole National Park
Just 90 kms south-west of Mysore lies Nagarhole National Park an excellent sanctuary for viewing elephants and a rich variety of bird life. View by jeep and on elephant back. Stay at hotel.
Day 06 : Nagarhole - Ooty - Coonoor
Morning drive to Ooty (90 kms/3hrs) the famous hill station in the Nilgiri hills. Coonoor is just 13 kms from Ooty and offers a relaxing alternative. Afternoon free for leisure.
Day 07 : Coonoor
Today leave for a visit to the tea plantations, The Botanical Gardens, and Sima Park in Coonoor. In Coonoor also see the views from Lady Canning's Seat and Dolphins Nose.
Day 08 : Coonoor to Cochin
Drive south to the Malabar Coast to Cochin( 280 kms/7 hrs). Over the centuries the Portuguese, Dutch and British have all influenced this fascinating city.
Day 09 : Cochin
In morning visit the synagogue, Dutch Palace, St Francis Church and the spice market. In the afternoon take a harbour cruise to see some of the nearby island and Chinese fishing nets.
Day 10 : Cochin to Periyar
After breakfast drive along the coast to Alleppey (70 kms) and take a backwater cruise for 2½ hours through some of the most picturesque backwaters in Kerala to Changancherry. Continue on by car to Lake Periyar wildlife sanctuary in the heart of the Cardamon hills. Evening viewing by an exclusive boat ride on Lake Periyar. Stay overnight at the hotel.
Day 11 : Periyar to Kodaikanal
In morning drive upto the Palani hills to Kodaikanal (160 kms/4 hrs) a peaceful backwater hill station noted for its beautiful scenery and lake. Stay overnight at the hotel.
Day 12 : Kodaikanal to Madurai
In morning drive down to Madurai (90 kms/4 hrs) where life in the bustling pilgrimage city is centred around the great Meenakshi temple. In the afternoon visit this living temple returning in the evening to witness the temple music. Stay overnight at the hotel.
Day 13 : Madurai to Chennai
Transfer to airport to connect flight for onward destination
The drive to Kumarakom (130 km / 4hrs) negotiates some of India's most stunning scenery. From the sea of clouds over the Cardamom Hills we descend into the lush backwaters of Kerala to Kumarakom. The afternoon is spent relaxing aboard a traditional palm-covered rice barge with a lunch of local cuisine as we are punted through the tree-lined backwaters
Day 14 : Kumarakom - Cochin
Morning visit Kumarakom Bird Sanctuary. Later drive to Cochin an ancient trading Port (80kms / 2 hrs.). Cochin is a curious blend of medieval Portugal, Mercandle Holland and an English country village, set on the exotic Malabar coast. In the evening there is an opportunity to experience the renowned Kathakail dance at a local hall.
Day 15 : Cochin / Out
Morning tour of the opulent Mattancherry Palace, a gift from the Portuguese to the Raja of Cochin. The place has a collection of remarkable 16th century murals painted on wooden walls. In the old Jewish quarter we visit the ancient Synagogue. Later the warehouse and shops provide us with some of the best shopping in India. We conclude our visit with the Church of St. Francis and the tomb of Vasco Da Gama. Late evening transfer to the airport to board the flight for onward destination.
All Itineraries are Customized as per client requirement